May 9, 2010 § Leave a comment
By Ken Kelley
I was surprised during my trip to Colombia last month when my seemingly enlightened Bogotá cab driver, who had been telling me about his support for Green Party presidential candidate Antanas Mockus in the upcoming elections, suddenly shifted gears and announced that Venezuelan President Hugo Chávez was loco.
The mental state of its leader was not the only issue the driver had with the neighboring country, and he added that money for Venezuela's social programs came not from oil wealth but rather from proceeds Chávez received as part of an international drug smuggling ring.  Among the co-conspirators in the ring, I learned, was ex-President Manuel Zelaya of Honduras, ousted in a coup last summer which according to the cabbie had been justified based on the fact that Zelaya was also loco.
June 29, 2009 § 3 Comments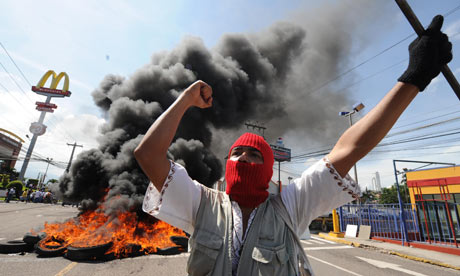 A supporter of the exiled Honduran president, Manuel Zelaya, protesting against the coup in the capital, Tegucigalpa. Photograph: Orlando Sierra/AFP/Getty Images
Elsewhere dubbed Obama's First Coup D'Etat, the Guardian's lead article on the military coup in Honduras that follows here makes scant mention of General Romeo Vásquez's earlier training at the School of the Americas, and the curious headline 'Hugo Chávez vows to 'bring them down' after seeing Honduran ally ousted in military coup' appears to make Chavez's comment rather than the coup the news. It will be interesting to see if this receives nearly as much attention in western media as Iran has, which is fast becoming the comparison benchmark when we see the blatant double standards and dearth of similar coverage accorded to Palestine and Gaza in particular; have a look also at Johann Hari's coverage of the important uprising in the Amazon. Venezuelanalysis and Eva Golinger's blog have extensive updates on the situation in English and for those in New York there will be a gathering in front of the Honduran Mission to the United Nations, 866 UN Plaza, today, Monday 29th between 3 and 6pm.
The army in Honduras has ousted and exiled its leftist president, Manuel Zelaya, in Central America's first military coup since the cold war, after he upset the army by trying to seek another term in office.
The US president, Barack Obama, and the EU expressed deep concern after troops came at dawn for Zelaya, an ally of the socialist Venezuelan president, Hugo Chávez, and took him away from his residence.